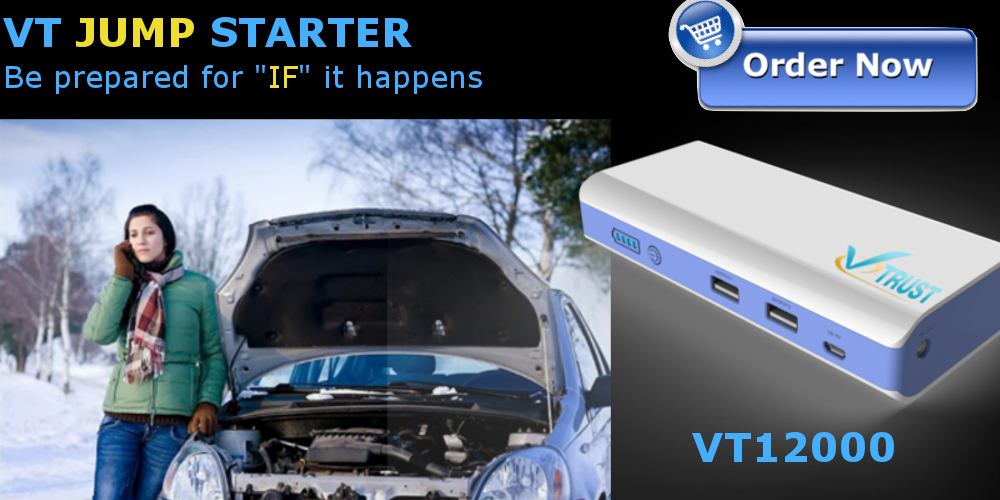 Part Number:VT12000
VT JUMP STARTER 
The day you jump into your new ride and enjoy the convenience that your car brings to you is when you begin to deal with car issues. A dead car battery is always one of them. VT Starter is one of those must have devices put in your glove box that could save your life. Never wait for tow truck again!
VT12000
A real compact design with a size by 6x3x1 inch. With a fully charged battery, VT JUMP STARTER can be stored in your glove box for up to 1 year and still be able to jump start your vehicle without additional charging.
12V Jump Starter
400A Peak Current! VT 12000 is able to boost a 3.0L gasoline engine. A fully charged VT12000 can achieve up to 20 times back to back boost
Backup Power for All Mobile Devices
Advanced 2 USB ports design, charge 4 devices at the same time. 12000mAh Lithium-ion battery provides enough battery capacity to fully charge your cellphone up to 5 times.
Technical Specifications
Model:VT STARTER-VT12000
Input: 5V/1A; 12V/1A
Output: 5V/1A; 5V/2A; 12V Jump Start
Start Current: 200A
Peak Current: 400A
Size: 161x70x31 mm
Weight: 520g
Operating Temp: -20°C ~ 60°C; -4°F ~ 140°F
Lifetime: >1000 cycles
Package Includes
Li-Ion battery jump starter
Jump cable with two claws
110V~220V adapter
USB cable with 3 tips